Discover more from Carnet Verona
Carnet Verona promuove e valorizza il territorio veronese e le imprese che lo vivono.
Over 6,000 subscribers
Model Expo Italy 2016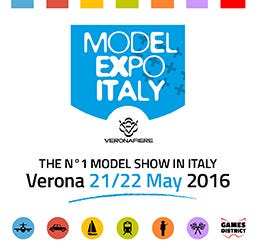 A WEEKEND IN VERONA HALLMARKED BY MODELS AND GAMES
 
Model Expo Italy is the Italian landmark exhibition in the model sector. The event is scheduled 21 & 22 May 2016 at Veronafiere.
Model Expo Italy - now as its 12th edition - is also a tourism ideal for families: 5 exhibition halls, 2 large outdoor show areas, a total occupied area of 63,000 square metres, over 70 events, competitions, workshops and shows.
There are 6 theme areas dedicated to model cars, model aeroplanes, model railways, model boats, static models and a Special Area (new for 2016) with a display stage for Slot Cars, flight simulators, mini 4 WD and an event dedicated to "makers".
In addition, Model Expo Italy also presents the new edition of the Games District, the format entirely dedicated to games in all their forms.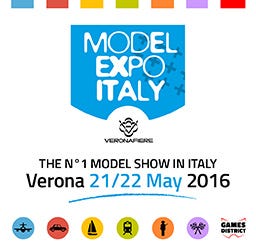 MODEL EXPO ITALY: DIE WICHTIGSTE MODELLBAU MESSE IN ITALIEN

Model Expo Italy ist die wichtigste Messe in Italien im Bereich des Modellbaus, die an 2 Tagen von Samstag, 21. Mai bis Sonntag, 22. Mai 2016 in Verona stattfindet.
Die 12. Ausgabe der Model Expo bietet eine touristische Angebote für Familien: 5 Hallen, 2 outdoor Showfläche, 63.000 m² Ausstellungs, mehr als 70 special areas, Vorträge und Vorführungen.
6 Produktgruppen: Flugmodellen  Schiffsmodellen,  Modelleisenbahnen,  Modellautos und, als Neuerungen 2016, eine "special area" mit Slotcars, Flugsimulatoren, mini 4WD und eine Sonderpräsentation für "Machers". Parallel zur Model Expo Games District: der Ereignis zum Thema  Spiele und Spielwaren.